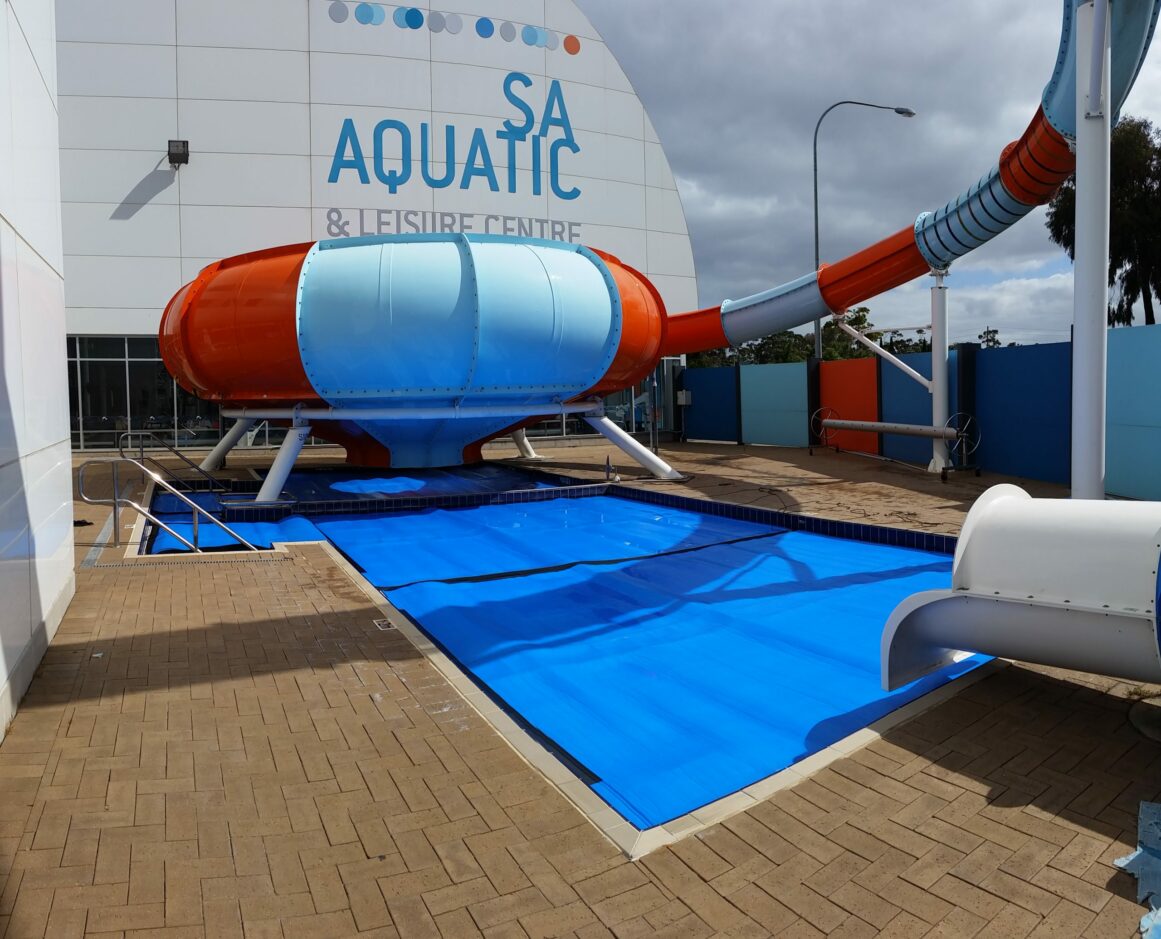 By James Croll of Australasian Leisure Management – Issue 147
For years, the commercial aquatic sector saw pool covers simply as a means of keeping a pool warm and the water's chemistry in check. However, recent years have seen aquatic venues appreciating that fitting the right pool cover can result in benefits that are far more reaching and which can dramatically reduce costs. The shift is the result of a number of Australia's pool cover suppliers continuously raising the bar and introducing some fascinating and ground-breaking solutions. 
One such supplier, Sunbather endorses the importance of extensive research prior to tailoring a pool cover solution to a venues specific needs.
Sunbather Managing Director, Tom Boadle explains "in the first instance we offer a free energy audit and return on investment calculation using a unique pool heating simulation developed by the University of NSW specifically for swimming pools.
"We can calculate a pool centres current running costs, then apply the savings solar pool heating and/or pool covers will generate showing the savings in dollars, evaporation (litres), and greenhouse gas tonnes."
The resultant cost savings are impressive. It is very common that by simply installing pool covers Sunbather can reduce a $200,000 a year pool heating bill down to $70,000. Very few products available generate such a rapid return on investment as typically the cover systems are paid for within 18 months. 
A specialist in the commercial pool cover sector, Sunbather's extensive research and analysis is particularly relevant in a number of high-profile projects they have completed in recent years since they have provided covers for some of the most complex and challenging projects. This was typified by their recent residential project – the Sky Pool at Hawthorne Park – with Aloha Pools, an Australian pool design and construction company known for constructing pools in difficult and demanding locations.
Boadle advises "the Sky Pool at Hawthorne Park was Melbourne's first sky pool. It was built and suspended seven storeys high between two buildings at the $300 million Hawthorn Park development. It's an astonishing feat of engineering. The pool itself is a 25-metre lap pool with a clear acrylic bottom, giving swimmers a spectacular view of the landscaped gardens below."
The pool's 50-tonne stainless-steel frame from Myrtha Pools was constructed in two parts and two cranes were needed to winch both parts into place.
Constructed to allow the structure to move independently of the two connecting buildings, Boadle advised "it's a massive feat of engineering which took over seven months to build.
"We've worked with Aloha Pools on a number of exciting projects and this was a particularly exciting challenge as it saw us not only needing to design and manufacture a cover for a complex site but transport the cover seven stories up and get it poolside for installation."
Boadle's team solved the challenge with a sophisticated project plan that involved transporting the cover up via cranes. They also designed the cover to withstand the demands the exposure placed on the cover and managed to provide a solution that retained the pool water heat as efficiently as if it had been at ground level.
In addition to the more complex challenges posed by a number of Aloha projects, Sunbather are also seeing a massive trend for going underground; specifically, the installation of pool covers under ground level at poolside. Their award winning Downunder pool cover system was named Product of the Year at the SPASA Australia National Awards of Excellence and is a highly innovative energy saving system recognised for its outstanding achievement in pool product creativity, innovation, and design excellence.
The cover and roller are installed below ground level in pre-cast concrete pits out of the way, leaving the pool deck clear of clutter. The Downunder system works simply, with operators needing to lift a hinged lid and pull out the thermal blanket to cover the pool before closing the lid so there's no bulky roller on the pool deck to get in the way. The process is simply reversed to store the cover.
Boadle goes on to say "we've designed the Downunder system so that it can be operated manually or, for larger locations, mechanically with our Sunbather Aqua Valet.
"It's an Australian invention, manufactured in Australia to handle tough local conditions. The system saves enough energy to pay for itself in just a few years."
In keeping with a venue's objective of keeping areas clean and de-cluttered are the innovative solutions suppliers are now delivering which combine pool cover storage with seating. 
Boadle adds "under seat storage not only provides the perfect choice when space is limited.
"It also serves the dual purpose of providing seating at a budget friendly price (so) again, our focus is also on ease of use as the rollers are automated and can be easily stored or opened by one member of staff with the Sunbather Aqua Valet. The Aqua Valet is manoeuvrable, and the user simply plugs it into the side of the roller, pushes the button, and leaves the Valet to do its work."