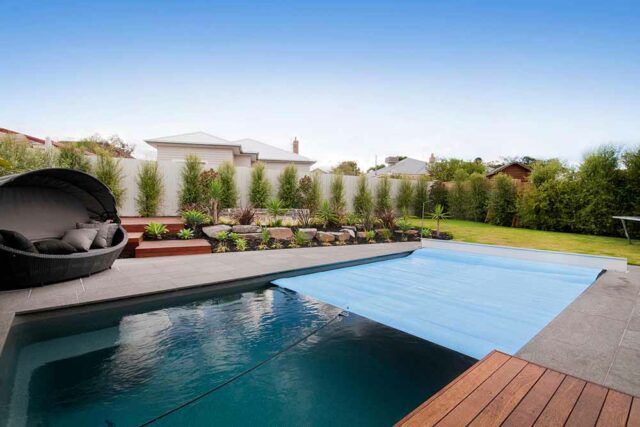 By Simon Boadle
Pool covers are becoming increasingly popular throughout Australia, thanks to the ever-rising costs of pool heating, increasing concern about water evaporation and the opportunity for pool owners to reduce general maintenance.
Using a pool cover, however, requires a greater level of care when it comes to operating the pool's sanitising system, as the chlorine demand for a covered pool is much lower than an uncovered one. If the cover is in place for the majority of the time, the chlorine demand in an average pool can be reduced by up to 90%. This is because a quality opaque cover seals the water surface and has the effect of converting the pool into a fully enclosed water tank.
Most industry water quality advice (such as information contained in AS 3633, State Health Department articles and information supplied by SPASA) is more relevant to public aquatic amenities than to residential settings. Public facilities must cope with heavy bather loads while maintaining a high level of swimmer protection against waterborne disease and contamination. There is little authoritative information that addresses the effect of pool cover use on pool sanitisation in a residential setting. To apply the same levels of sanitisation recommended for public pools to the average domestic pool (where a cover is in regular use) will quickly very result in dangerous levels of over-chlorination and corrosive water quality.
As the use of covers continues to increase, our service department is seeing a greater number of seriously out-of-balance pools. While winter is the time when pools are least used, pumps and unregulated chlorinators often remain on summer settings. If a cover is left permanently on the pool in these conditions, its useful service life is greatly reduced because of the resulting poor water quality.
The solution is to use a sanitising system that self-adjusts when the pool cover is either on or off. An ORP-controlled sanitiser is ideal, as it continually measures and adjusts water quality throughout the day.
Covers are a valuable addition to any pool installation, providing real, measurable benefit. To get the most out of their investment, pool owners deserve to be given accurate advice when it comes to maintaining healthy water quality, and it's up to industry members to provide it.